The Undiagnosed Teenager with Dyslexia
Author
by Abigail Marshall.  Excerpted with permission from Chapters 2 and 3 of The Everything Parent's Guide To Children With Dyslexia
© 2004 F+W Publications, Inc., a division of Adams Media.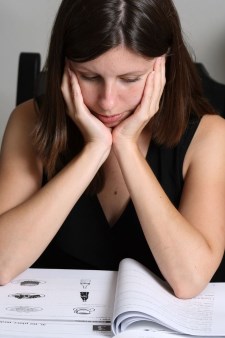 Often, very bright children are able to compensate for their dyslexia in the early school years, but cannot cope with the greater intellectual demands of secondary level schooling.
Some common signs that your teenager may have dyslexia are:
Your child must repeatedly read and reread material in order to understand it.
Your child has extreme difficulty managing and keeping track of homework assignments and deadlines for his various classes.
Your child repeatedly reports that she was unaware of assignments and deadlines because the teacher "never told" her what was required.
Your child has unexpected difficulty with learning a foreign language.
Your child struggles with higher math, such as algebra.
There is a significant discrepancy between your child's school performance and scores on standardized tests, including college board tests such as the PSAT.
If your child shows significant problems in any one of the above areas, it is a sign that he may have a previously undiagnosed learning disability. You should discuss these issues with him and also talk to parents of his classmates to find out whether their children are also having problems with the same subjects. Sometimes a problem with a math class or the first year of a foreign language can simply be the result of a poor teacher; poor grades in any subject can also occur with a teacher who is unusually strict in grading practices. If it is a "teacher" problem, usually other students and parents will have similar complaints.
However, if the problems seem to be unusual or persistent, you should seek an evaluation for dyslexia or other learning barriers. The guidance counselor at school may be able to help arrange such testing, as well as to help plan your child's course schedule to better meet his needs.
When an Older Child Asks for Help
In some cases, your older child or teenager may be the one who asks for testing. Your child may find the academic demands in middle school and high school overwhelming, at least in some subject areas. She may have learned about dyslexia on her own, through Internet websites or by talking to other kids. In any case, she knows that she is struggling with material that seems easy for her peers.
Your teenager may be afraid to bring up the subject of dyslexia at home. He may be embarrassed to let you know just how poorly he is doing at school, or he may be afraid that you will be angry or upset.
It is important that you listen to your child and try to understand the reasons she feels she needs extra help. You might want to take a list of common dyslexia symptoms and ask your child to show you which problems on the list she feels apply to her.
You may be surprised to learn that your child has been struggling for years, but has managed in the past to hide his problems through sheer determination and hard work. Your support and understanding is crucial; for a child who has previously done well academically, an appropriate diagnosis can be the boost he needs to excel in high school and gain admittance into the college of his choice.
Citation Information
Marshall, A. The Undiagnosed Teenager with Dyslexia. Retrieved December 10, 2023 from Davis Dyslexia Association International. Dyslexia the Gift website: http://www.dyslexia.com/?p=2323.
Related Articles

Find a Davis Provider near you
Share this page!