Experiences – Reports from Adults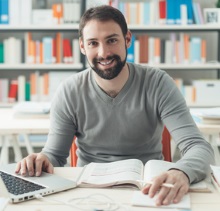 The Davis program was created by a dyslexic adult, based on discoveries made when he managed to correct his own dyslexia at age 38. The program was developed through continued research with adult volunteers. Davis Facilitators have worked successfully with adults of all ages — even some in their 90's.
Davis works for adults where other programs have failed because it geared to the way that dyslexics think, and provides adults with tools to enhance their own innate mental strengths. Davis programs are provided in a confidential, one-on-one setting, and individually tailored to individual goals.
I can now stop the dizzy feeling in my head. In the past I've talked to my doctor about it and could only describe it to her as "feeling off". This week I've learned that it's being disoriented AND I can correct it! I can already see improvement in my disorganized way of tackling tasks. I am able to approach things in a more systematic manner and actually complete a job!
Pat, 34 years old, mother of two, Ongario, Canada - from
Mind over Dyslexia
I have quietly struggled with dyslexia for many, many years.  Early last year I discovered the Davis Dyslexia Programme.

At the beginning of the course we set clear goals to aim for so I could see my improvement. Throughout the course there were several ah-ha moments when a problem was solved.

Over the years I have done various courses to help me improve my reading speed and spelling but I have found the Davis Dyslexia Programme the most beneficial.
Gillian, Australia - from
Dyslexia Unlocked
I've been able to understand things I've read. Last night, I went to the art museum and was able to read the wall plaques and comprehend!
Male, age 29, Michigan - from
New Chapter Learning
I am an IT consultant who works in the software testing aspect of IT; I have built myself a very successful career over about 15 or so years; I have always struggled with reading and writing; although have a great mind for solution and big picture views. I have just completed your amazing course.  For the first time ever in my life I have become excited about reading (I'm nearly 40 years old!) My handwriting has changed so dramatically my wife did not believe it was mine!
Paul, New Zealand - from
Optimum Learning
I am embracing the meanings of words into my subconscious. I have improved my reading and am better at reading aloud. I have more confidence in my reading. I can focus easily without working at it.
Male, age 26, Texas - from
New Perceptions Learning Center
My reading is dramatically different. I understand so much more, even from books I've already read. From the very beginning of the program, I could see a big difference in my reading and comprehension.
Dan, Illinois, US - from
Chicago Dyslexia Center
Before doing this program, I would get distracted easily and not finish my work. I am relieved to find out I am dyslexic, and glad I have my new tools. I wish I would've done this program sooner, so I didn't have to struggle for so long.
Weijia, graduate student, age 33, New Jersey - from
New Perspectives in Learning
I could hardly read at all before I started the programme. For the first time, I finished a book without getting frustrated or angry. I pinched a book from primary school because I wanted to read it and now over 30 years later I can read it. I am more mellow now and starting to be me again. I've found myself! This course works – better than anything else I've tried.
Dave, New Zealand - from
Wellington Learning Solutions
For more detailed reports, check these blog posts:
Related Articles
Before I can discuss the positively amazing impact the Davis Method has had on my life, first I should give some background about my dyslexia. I was diagnosed as a "severe to extreme" dyslexic while in my 3rd year of study at university. The...
Most adult dyslexics will exhibit at least 10 of the following traits and behaviors. These characteristics are often inconsistent, and may vary depending upon the day or situation. Career: Employed in job/position that will hide difficulties...
Dyslexic employees are some of the smartest, most imaginative and highly motivated people in your workgroup -- and your company's management. Employers can easily adapt the workplace to help dyslexic people work more efficiently.
Share this page!