Elizabeth Daniels Squire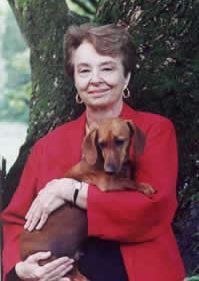 July 1926 - February 2001
Mystery writer & Journalist
Due to a lifelong struggle with dyslexia, schoolwork – especially reading and writing – presented Elizabeth Daniels-Squire with great difficulties. Yet, gifted with resilience and a desire to succeed, Elizabeth found ways to cope and graduated from Vassar College.
Elizabeth chose a career in journalism. As a reporter, she covered murder trials and as a nationally syndicated columnist wrote about the character and talents revealed by the handprints of such notables as Salvador Dali and Eleanor Roosevelt. But it's her work as a mystery writer for which she is best known.
Throughout her career, rather than hiding from her dyslexia, Elizabeth embraced it. Peaches Dann, the amateur detective who stars in most of her mysteries, suffers from an extraordinarily poor memory and is forced to find creative ways to overcome her forgetfulness in order to solve her perplexing cases. Over the years, Elizabeth also became a memory expert as a result of researching her absent-minded sleuth.
---