The Gift of Learning – German Translation
This book is out of print.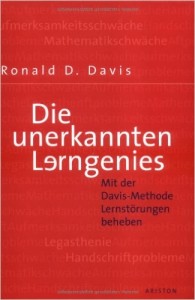 Die unerkannten Lerngenies
Mit der Davis-Methode Lernstörungen beheben
By: Ronald D. Davis
Ronald D. Davis, erfolgreicher Geschäftsmann, Ingenieur und Künstler, war Analphabet bis er mit 38 Jahren Methoden entdeckte, die ihm halfen, innerhalb kürzester Zeit seine Lese- und Rechtschreibschwäche in den Griff zu bekommen. Ron Davis wurde zu der Koryphäe auf dem Gebiet des Legasthenie-Trainings und ist als erfolgreicher Autor, Redner und Seminarleiter tätig.
---