Removing Obstacles to Learning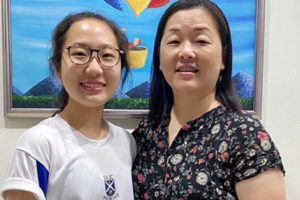 from CaringSG
Published on 04/12/2021
Featuring the work of Christina Tan
---
When Christina's younger daughter, Edena (then 6), was diagnosed with dyslexia in 2009, she was determined to look for an intervention programme that could help her catch up with her reading age within the shortest time possible. She and her husband also decided to defer Edena's Primary 1, as they saw how low her confidence was. They wanted to do what they could to give her the necessary interventions before the demands of the mainstream curriculum overwhelmed her.
Christina found the solution in the Davis Dyslexia Correction Programme (DDCP). For the next year, Christina continued working with Edena using the Davis tools and techniques. By the time Edena returned to school a year later, she had a new found confidence. Now 17, Edena is pursuing her studies in junior college. This would not have been possible if not for the timely intervention and support from family, teachers and friends.
The journey from suspecting that Edena might have some learning difficulties, to seeking out professionals for advice, to researching and selecting the intervention programme, had been a daunting but enriching experience. While Christina has the desire to help other parents in similar situations, it is her conviction that to be in a position to provide guidance and support to other parents, she needs to have gone through the experience, successfully remediated the problem and be sufficiently well versed with the subject matter.
Hence she decided to dive into special needs education, first completing a Diploma in Disability Studies and later getting trained as a Davis Facilitator. Christina subsequently set up a Dyslexia Group on Facebook, with the mission to create more awareness about dyslexia and to help parents navigate their journey.
(The original article linked above also includes two videos: a short English-language video presentation with Edena, and a long, Chinese-language interview with Davis Facilitator Christina Tan.)