Davis Program Average Reading Gains
Statistics from Rocky Point Academy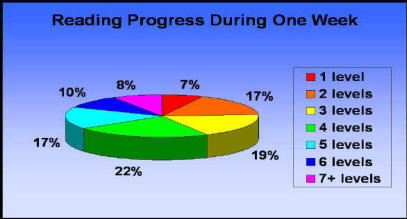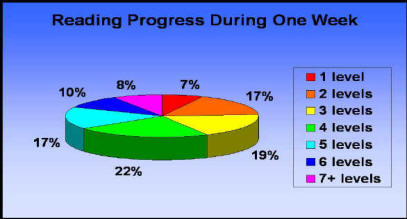 Davis Facilitators Lawrence and Stacey Smith have assembled data showing reading level gains for more than 360 clients who completed the Davis Dyslexia Correction® program at their center, Rocky Point Academy, in Calgary, Canada. The reading level at the beginning and end of the basic five-day program was measured using the Ekwall-Shanker Reading Inventory during oral and silent passage reading.
The Smiths' data shows an average improvement of almost 4 full grade levels in reading. More than one-third of the group showed improvement of 5 or more grade levels; more than three-quarters improved their reading skills by at least 3 grade levels.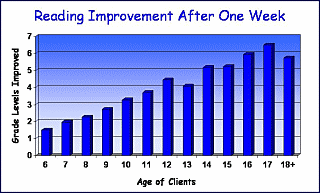 When the level of improvement is correlated to the age of the student, a clear pattern of steadily rising results emerges. Children age 8 through 12 had average gains of slightly above 3 grade levels. Teenagers, age 13-18, averaged almost 5 grade levels of improvement during the one week program. Adults, ranging in age from 19 through 57, experienced an average improvement in ability of 6 grade levels.
Many did even better than the statistics show. The Smiths used a test that measures reading ability only up to 9th grade level. About one-third of teenagers and 40% of their adult clients scored above the maximum measurable level at the conclusion of their programs, and thus could not be included in the statistical survey.
2004 Study of 120 Individuals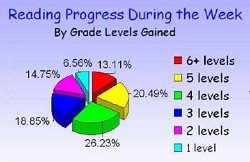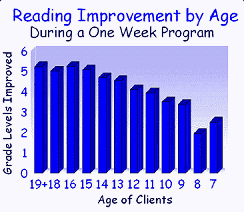 These reported results are consistent with earlier data reported by the Smiths in 2004, for the initial 120 clients tracked.
These statistics negate the myth that it is "too late" to reach children past the primary years. With the Davis approach, older children, teens, and adults tend to progress more rapidly than their younger counterparts. These dramatic gains suggest that the Davis program is effective in a addressing major learning and perceptual barriers that have stood in the way of the individual's progress for many years.
In order to ensure that improvement is maintained over time, Davis clients are advised to continue to practice the techniques learned during the initial program, and to complete the Davis Symbol Mastery® clay modeling tasks.
The Smiths' data confirms that children younger than age 8 are likely to experience more modest gains with a Davis Dyslexia Correction program. While 7-year-olds showed an average improvement of 2 grade levels, younger children will need continued practice and support to become confident, independent readers. Such support is best provided through the Davis Reading Program for Young Learners, which provides a strong framework for mastering foundational skills.
The goal of a Davis program is to provide the tools that are needed for lifelong learning. The results reported on this page are averages only. Davis programs are highly individualized and each client will progress at their own pace. Some individuals may experience large gains in reading levels immediately, whereas others may need more time and practice to achieve similar results.
Citation Information
Marshall, A., Smith, L., & Borger-Smith, S. (2009). "Davis Program Average Reading Gains." Retrieved October 2, 2023 from Davis Dyslexia Association International. Dyslexia the Gift website: http://www.dyslexia.com/?p=265.
Source Material
Success Rate, Rocky Point Academy  (3 August 2009)
Ekwall, E. & Shanker,J. (2000). Ekwall/Shanker Reading Inventory (4th Edition). Allyn & Bacon. (ISBN 978-0205304417)
Related Articles
Diary of 13-year-old Bridget Dalton's week with her Davis facilitator Monday I was really excited because I was having a week off school and coming to a place I didn't know and staying in a bed-and-breakfast. But I was also quite nervous, mainly...
We view dyslexia as a result of an inherent mental gift or talent. People who develop dyslexia think in pictures, rather than words; they are imaginative and creative; and they try to solve problems by looking at the whole picture, rather than working ...
Featured feedback about Davis Dyslexia Correction program results from adults, children, parents and teachers.

Find a Davis Provider near you
Share this page!