Research Topic: Disorientation
Ron Davis developed the Davis programs for dyslexia and other learning challenges based in part on in-house, clinical research of the impact of disorientation on perception. This page contains links to independent research that may inform and expand upon the understanding of these factors.
Research Articles:
T.M. Centanni , D. Pantazis, D.T. Truong, J.R. Gruen, J.D.E. Gabrieli, T.P. Hogan. Increased variability of stimulus-driven cortical responses is associated with genetic variability in children with and without dyslexia. Developmental Cognitive Neuroscience. In Press, Available online 26 May 2018, 2018.
Gabay, Y., Gabay, S., Schiff, R., & Henik, A.. Visual and Auditory Interference Control of Attention in Developmental Dyslexia. Journal of the International Neuropsychological Society. 1-11, 2019.
Hornickel, Jane; Nina Kraus. Unstable Representation of Sound: A Biological Marker of Dyslexia. Journal of Neuroscience. 33 (8) 3500-3504, 2013.
Mettey, A., Bouvier, A., Jooste, V. Boucher, Y., & Quercia, P.. Are changes in the stomatognatic system able to modify the eye balance in dyslexia?. Journal of oral biology and craniofacial research. 9(2), 166–171, 2019.
Raghuram A , Hunter DG , Gowrisankaran S , Waber DP. Self-Reported Visual Symptoms in Children with Developmental Dyslexia.. Vision Research. Online 04 Dec 2018, 2018.
---
Related Articles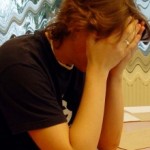 When dyslexic people make mistakes in reading or spelling, it is because they are experiencing disorientation, which results in distorted perceptions. The person's threshold for confusion is a key factor in how often he or she disorients. A...
  The individual encounters an unrecognized stimulus. This could be a word (written or spoken), symbol, or object that is not recognized. The lack of recognition causes a feeling of confusion. Confusion naturally and automatically ...
Share this page!