Research Topic: Disorientation
Ron Davis developed the Davis programs for dyslexia and other learning challenges based in part on in-house, clinical research of the impact of disorientation on perception. This page contains links to independent research that may inform and expand upon the understanding of these factors.
Research Articles:
Julian Q. Kosciessa, Ulman Lindenberger & Douglas D. Garrett. Thalamocortical excitability modulation guides human perception under uncertainty. Nature Communications. 12, Article number: 2430, (2021).
Alexa Meilleur, Nicholas E.V. Foster, Sarah-Maude Coll, Simona M. Brambati, Krista L. Hyde. Unisensory and multisensory temporal processing in autism and dyslexia: A systematic review and meta-analysis. Neuroscience & Biobehavioral Reviews. Available online 13 June 2020, (2020).
Gabay, Y., Gabay, S., Schiff, R., & Henik, A.. Visual and Auditory Interference Control of Attention in Developmental Dyslexia. Journal of the International Neuropsychological Society. 1-11, (2019).
Mettey, A., Bouvier, A., Jooste, V. Boucher, Y., & Quercia, P.. Are changes in the stomatognatic system able to modify the eye balance in dyslexia?. Journal of oral biology and craniofacial research. 9(2), 166–171, (2019).
Raghuram A , Hunter DG , Gowrisankaran S , Waber DP. Self-Reported Visual Symptoms in Children with Developmental Dyslexia.. Vision Research. Volume 155, Pages 11-16, February, (2019).
T.M. Centanni , D. Pantazis, D.T. Truong, J.R. Gruen, J.D.E. Gabrieli, T.P. Hogan. Increased variability of stimulus-driven cortical responses is associated with genetic variability in children with and without dyslexia. Developmental Cognitive Neuroscience. Volume 34, Pages 7-17, November, (2018).
Michael Peer, Ronit Lyon, Shahar Arzy. Orientation and disorientation: Lessons from patients with epilepsy. Epilepsy and Behavior. Volume 41, Pages 149-157,, (2014).
Hornickel, Jane; Nina Kraus. Unstable Representation of Sound: A Biological Marker of Dyslexia. Journal of Neuroscience. 33 (8) 3500-3504, (2013).
Jürgen Bergmann, Florian Hutzler, Wolfgang Klimesch, Heinz Wimmer. How is dysfluent reading reflected in the ERP?. Journal of Neurolinguistics. Volume 18, Issue 2, Pages 153-165, (2005).
David I Shore, Emily Spry, Charles Spence. Confusing the mind by crossing the hands. Cognitive Brain Research. Volume 14, Issue 1, Pages 153-163, (2002).
Jerome S. Bruner, Leo Postman. On the Perception of Incongruity: A Paradigm. Journal of Personality. Volume 18, Issue 2 Pages: 206-223, (1949).
Jerome S. Bruner, Leo Postman. Perception under stress. Psychological Review. 55(6), 314–323, (1948).
---
Related Articles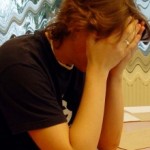 When dyslexic people make mistakes in reading or spelling, it is because they are experiencing disorientation, which results in distorted perceptions. The person's threshold for confusion is a key factor in how often he or she disorients. A...
The individual encounters an unrecognized stimulus. This could be a word (written or spoken), symbol, or object that is not recognized. The lack of recognition causes a feeling of confusion. Confusion naturally and automatically...
Share this page!